Article source : Shandong qingyun junchuang and lock co., LTD.,
Add : 2017-12-28
Pv:
Cable seals are adjustable length seals featuring unparalleled strength, security and tamper-evidence for heavy-duty and high-value applications in the aviation industry. Typical applications include air cargo crates, containers, high-value airline duty-free trolleys, airport logistics movements, and many more.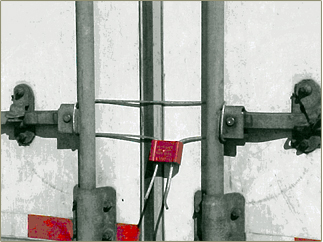 The logistics industry is a bit harder to pin down because often security requirements are dictated by customer needs. However, across the industry there is a desire to move things quickly and with as few errors as possible; to that end over-molded and barcoded cable seals are growing in popularity. Over-molded cable seals are your standard metal seals with a plastic casing to improve marking and readability by various barcode scanners. This type of seal is resistant to rust and less likely to have the marking tampered with than traditional painted or printed seals. In the logistics industry cable security seals are most often applied to rail cars, shipping containers, and truck doors.As these seals are made for onetime use and marked with a unique number they deter unauthorized access as they cannot be reapplied once cut.
Junchuang Cable Seal rates High Security per ISO 17712:2013 testing standard and is C-TPAT and PIP compliant. This versatile cable seal fits many applications and is popular for sealing bulk railcars and intermodal containers and trailers. The non-preform cable frays wildly when cut and is galvanized for corrosion protection. makes sure your goods are safe in transit.